3rd Annual Washington Fatherhood Summit Notes
Resilient Dads: Fathering in Challenging Times!
March 16, 17 & 18 
Day 1: Re-Shaping our Father Frame
Welcome! Over our three-morning event, we welcomed almost 300 individuals to the 3rd Annual Washington Fatherhood Summit. No need to travel this year, as it was our first year to be totally virtual. This allowed us to welcome participants from across the nation, who represented community service providers, education, state agencies, advocacy groups, medical providers, and many more.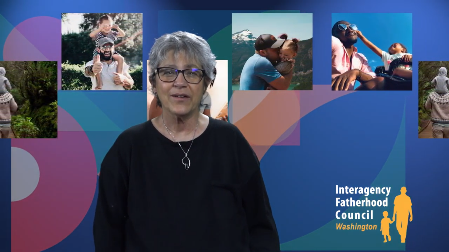 The Summit kicked off with a welcome video from Cheryl Strange, DSHS Secretary, who was introduced by Anne Stone, Director of the Washington Interagency Fatherhood Council. To set the tone for our three mornings together, we shared a trailer for a movie Fatherhood 101. You can rent this movie and share within your circle!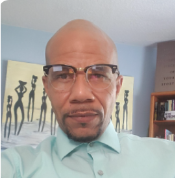 Plenary: The evolution of a myth made real—re-shaping our father frame! Corey B. Best, Mining for Gold founder and Community Curator, shared the interaction between developmental concepts of race and the evolution of racial ideology, oppression, and how these values, norms, and beliefs shape our current view of others, in this case, fathers. Mr. Best also introduced a values-based, racially equitable approach to building authentic and strong relationships with fathers at the point of entry, community, service, and systems level. You can watch a recording of Mr. Best's presentation and look over his slides.  
---

Key Take Away from Summit Attendee: "Father's must continue to play a vital role in the lives of their children and fight for inclusivity and opportunity to make positive, life-long impacts for their children."

---
Breakout 1: Stressed Dads: Mental Health Struggles of Fathers from the Perinatal Period and Beyond 
John O'Neill LICSW is a clinician in Spokane who has been working with fathers involved in the child welfare system and providing leadership to the Spokane Fatherhood Committee for more than  a decade. He discussed the challenges men face around improved well-being and becoming the parent they want to be.
Terry Britt shared his experiences as a father, including his journey of healing and his role as peer mentor.
They shared that men are not too tough for tears.  Social narratives about the ways in which men are expected to be "tough" are misleading and, ultimately, harmful to fathers, mothers, and children.  The truth is that fathers experience symptoms of depression, anxiety, and other kinds of distress as part of their person as a parent.  This session looked through this lens from the prospective of the professional and the father receiving services. You can view the slides from the presentation.
Breakout 2: Nurturing the Father-Baby Relationship
Nucha Isarowong PhD, LCSW Director of Advanced Clinical Training (ACT) Program at the Barnard Center for Infant and Early Childhood Mental Health at the University of Washington.
Nickolas Kasovac MA, IMH-E, OTS Infant Family Specialist and developer of the DAD Project for fathers and infants in Seattle.
The focus of media and popular western culture continues to emphasize the relationship between mother and infant, overlooking many caregiving efforts fathers make.  Healthy, secure attachment relationships are critical to early childhood development, yet the inclusion of the father-infant dyad in practice, research, and programming is still sadly insufficient.  The contributions of fathers to their children's development are often misconstrued, marginalized, or unacknowledged, leaving male parents without appropriate resources or responses to their needs. Despite the increase in the body of research on fathers and their impact on infant and early childhood development, the resultant impact on policies, practices, and programmatic decision-making has been slow to catch up. Below are word clouds created by participants. You can view slides or a YouTube video of the presentation.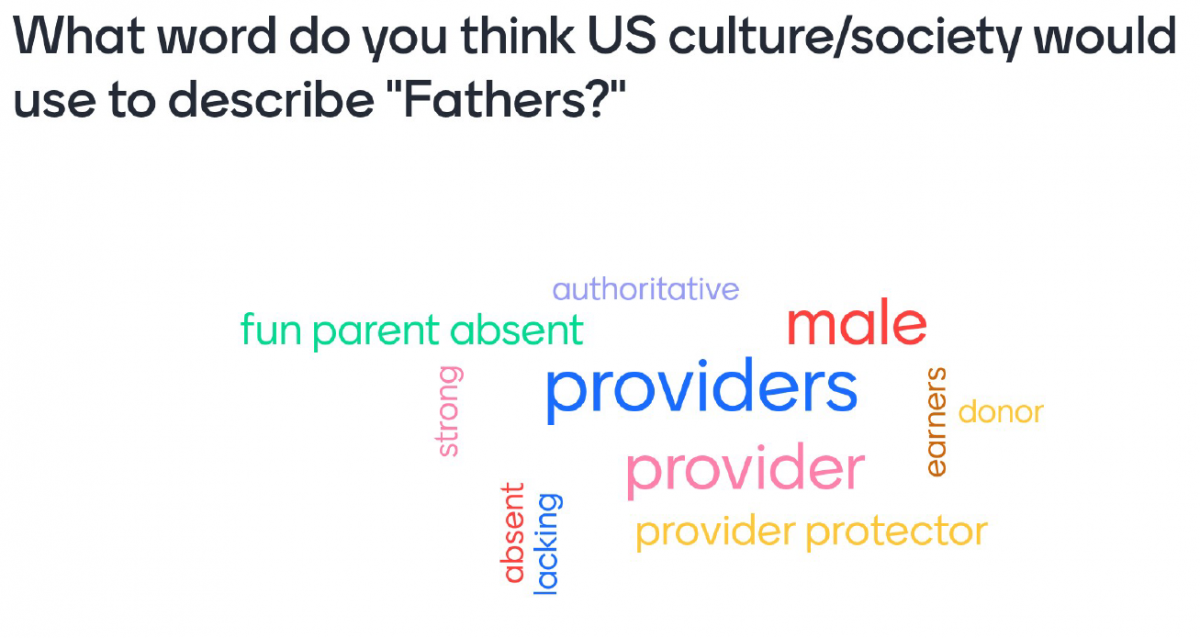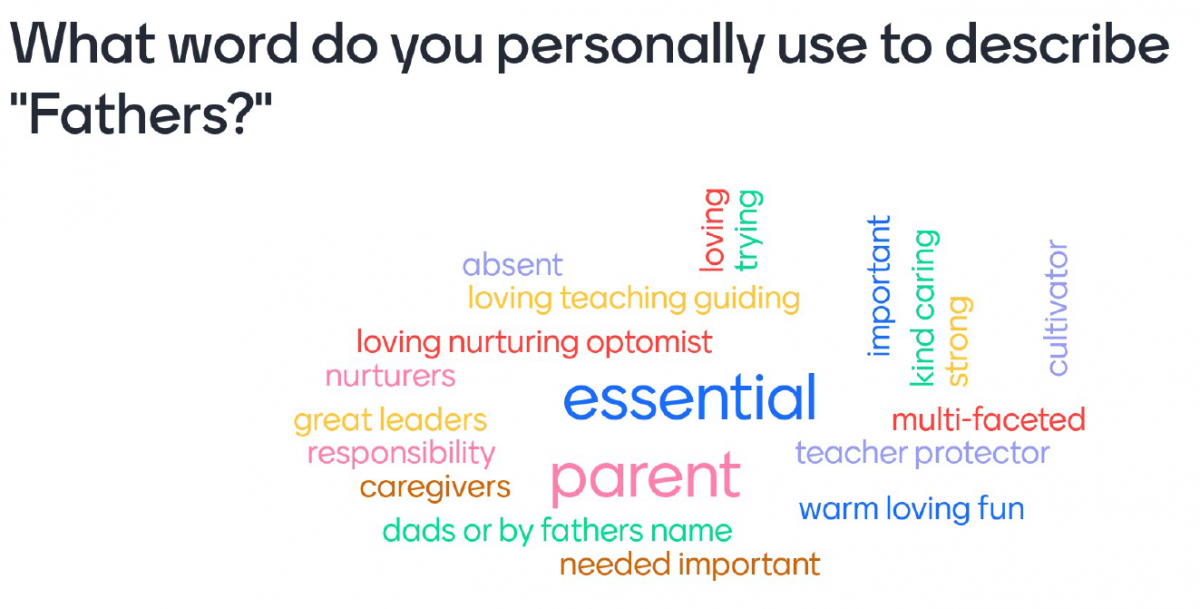 Day Two: The Voices of Fathers
Welcome! Summit participants gathered together for the second day and were welcomed by a live message from David Stillman, the Department of Social and Health Services' Assistant Secretary of Economic Services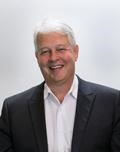 Administration. Listen to the entire morning content of Day 2.
Plenary:  Fatherhood Panel:  Fathers from across the state joined the conference to share their stories of Pandemic parenting and resilience.  Three fathers shared their experiences as fathers  in a panel discussion moderated by Jason Bragg. Mr. Bragg serves at the Parents Representation Program and as Social Worker at the King County Office of Public Defense. 
Panelist:
Temetrius Hollis – and his wife live in Seattle where they are raising their young daughter. He shared his experiences as a youth and adult involved in the justice system and how he views his parenting role.
Edgar Hernandez Jr.-and his wife live in Yakima where they are raising two children with special health care needs. 
Nelson Rascon-is currently the Executive Director of Dads M.O.V.E. His involvement with the nonprofit world started as he was raising his three children with special needs. While searching for support for his children, he collaborated and built relationships with several nonprofits and parent support groups.  He shared his life experiences helping his family and helping others.
---

Key Take Away from Summit Attendee: "The value of father involvement is too underestimated by too many who actually have the power to influence change: legal system, medical providers, early learning, teen mom's programs... So many who can easily make an impact by just adding the message."

---
Breakout 3: Developing Services That Engage and Meet the Needs of Fathers: What We Know From Research and Practice
Tova Walsh, PhD. Institute for Research on Poverty Assistant Professor School of Social Work - Strategies for involving and engaging fathers in programming
Dr. Tova Walsh discussed the development of outreach strategies and programming that is responsive to the needs of fathers. These strategies can be applied to strengthen and build upon father engagement practices to support the full participation of fathers in programming.
Additional Resources: 
The Unique Contributions Of Fathers To Their Children's Development:  Tova Walsh, February 20, 2019
Strategies For Involving And Engaging Fathers In Programming: Tova Walsh, Lauren Zach, Patrick Fendt, and Darryl Davidson, March 27, 2019
Strengthening Relationships Between Noncustodial Fathers And The Mothers Of Their Children: Tova Walsh and Darryl Davidson, November 20, 2019
The Role Of Fathers In Children's Health: Tova Walsh, Darryl Davidson, and Craig Garfield, February 19, 2020
Increasing Engagement Of Fathers In Services Through Father-Specific Programming: Tova Walsh, Darryl Davidson, Brooks Griffin, and Jennifer Bellamy, December 2, 2020
Jennifer Bellamy PhD University of Denver – Engaging Fathers and Mothers Together as Co-Parents in Home Visiting: Lessons from Dads Matter-HV
Mounting research indicates that children benefit from both mothers' and fathers' positive parenting and that mothers and fathers can benefit each other as parents. This talk includeed lessons learned from Dads Matter-HV, a co-parenting-based home visiting intervention designed to work with mothers and fathers together to strengthen the co-parenting relationship, improve parenting, and reduce maltreatment risk.
Keoki Kauanoe – Fatherhood Engagement Specialist – Family Education and Support Services – Fatherhood Engagement with Boots on the Ground
As a master trainer for the nationally recognized Nurturing Fathers Program and longtime fatherhood-direct service provider who has successfully pivoted to a virtual platform, he shared his insights and successes.
We know a lot about what works to engage fathers in services targeting a broad array of family services, including those that are fatherhood-specific services designed to meet their unique needs in the family. Look at slides from the presentation.
Breakout 4: WIC – Women Infants and Children – Engaging Dads in the WIC experience
Todd Mountin – WIC Senior Project Manager – WA Department of Health
Todd Mountin is the chair of the National WIC Association task force focused on engaging dads into the WIC experience. As a father of 4 and career WIC employee, Todd brought his unique perspectives gained from his experiences.
Micah Manu – Policy and Compliance Manager- State of Georgia WIC program
Micah Manu currently works as the Policy and Compliance Manager for the State of Georgia WIC program.  He began his career with WIC in 2010 with the Columbus Health Department. During this time, he worked as a WIC nutritionist providing nutrition education and breastfeeding counseling to participants.  In 2016, he moved from the district office to state office and worked  through ranks to become Policy and Compliance Manager. Also, he is a core team member for the State of Georgia's Department of Public's Health Strong Fathers Strong Family Coalition. Micah holds a Bachelor of Science in Dietetics and a Master of Science in Public Administration.
Ruben Lopez – Area Manager for Public Health Foundation Enterprises WIC , California
Ruben Lopez is a Registered Dietitian Nutritionist who has been working for the Public Health Foundation Enterprises WIC program since 1994.  Currently, Mr. Lopez is an Area Manager and oversees four WIC centers in the Pomona area of Los Angeles California. Mr. Lopez has been involved with a project tasked with helping men and dads  feel more welcomed and engaged during their WIC visits.  As a father of two young men and as a dietitian, he has counseled WIC participants, including men and dads, on the importance of a good diet and a healthy life style during critical periods of life such as pregnancy, infancy, and childhood.  His ability to speak Spanish and English has allowed him to provide much needed services to participants from varied backgrounds.
With the trials and tribulations that come with parenting, these panelists have  learned the value, power, and impact engaged fathers have on the health outcomes of their children. This session brought a fresh change of perspective for fathers participating in WIC. Look at slides from the presentation.
Day Three: Generating a Statewide Plan for Dad Allies
The final morning set the stage for our half day work session to learn, reflect, and lay the foundation for our Dad Allies, our version of the highly successful and innovative Alameda County Fathers Corps work launched in 2015.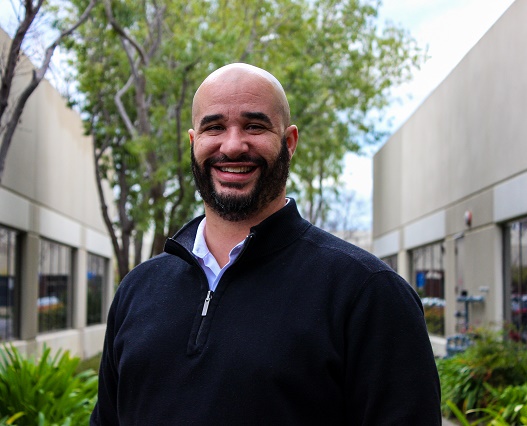 Plenary:  Kevin Bremond, Co-Founder of the Alameda County Fathers Corps; How can we learn from our California neighbors and build out our supports to fathers and those that serve them in Washington?
The presentation introduced the Alameda County Fathers Corps (ACFC) program model, an effective systems change, capacity building, and advocacy model.  The ACFC focuses on supporting public, private, and community based organizations with becoming more father-friendly, building the capacity of service providers working within organizations to offer father-friendly services and advocating on behalf of all fathers and father-figures.  You can view Kevin's Slides.
---

Key Take Away from Summit Attendee: "To examine any structural and systemic biases impacting father engagement, particularly as NCPs. To look for father-specific resources/father-friendly resources to offer."

---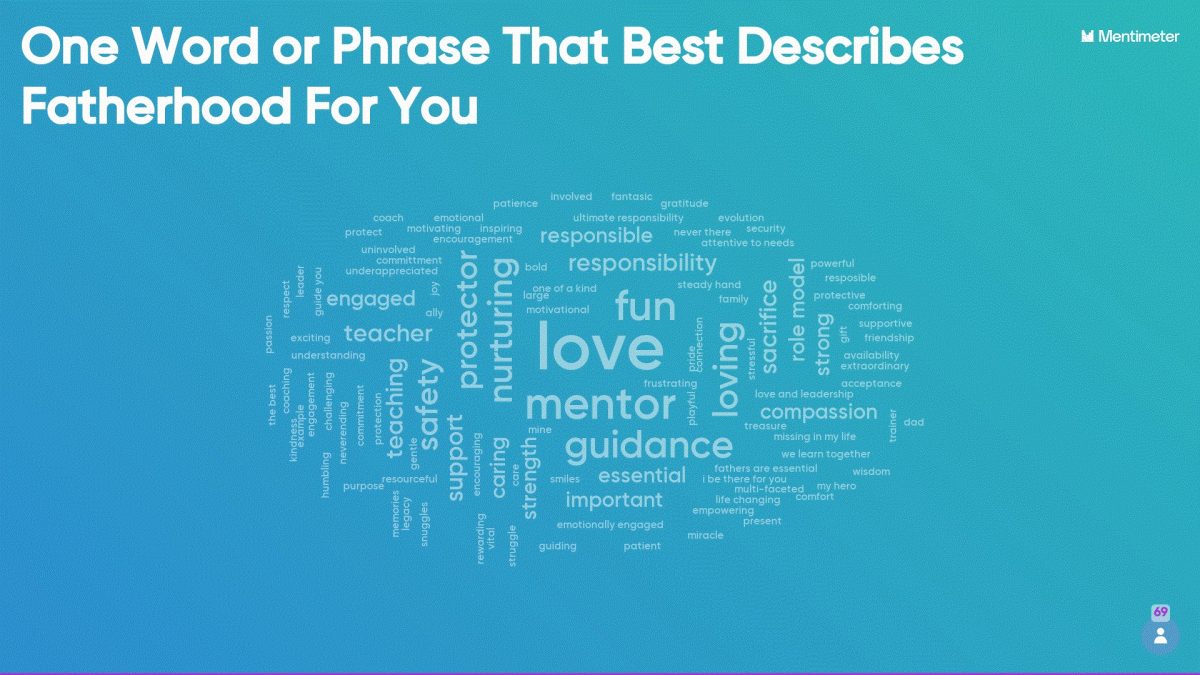 Work Session One
We broke into small groups in Zoom breakout rooms and asked participants to spend 45 minutes brainstorming principles and strategies they would like to see as part of the Dad Allies, identify key themes, and finally to vote for their top three strategies. Brainstorming Fatherhood Principles groups came up with the following ideas:
Investing in fathers and their voices
Inclusive Imagery
Balance between father and mother rights
Change Mindset Bias refocusing how fathers are viewed during custody/child support determination
You can view what each group brainstormed on Mural. Votes are indicated with an icon or symbol. 
Work Session Two
Our second 45 minute work session groups were asked to recreate their top action from above and place in an impact/effort matrix. You can view how each group organized their activities below.
Key take always from summit attendees:
Father's must continue to play a vital role in the lives of their children and fight for inclusivity and opportunity to make positive, life-long impacts for their children.
Engage fathers and change biases that many service providers have against fathers.
Fathers really feel put down and left out of their children's lives when the family is in systems like DSHS or the courts.
Creating systems of continuous collaboration.
Continue valuing fathers, ask questions and, don't make assumptions. Check my bias and continue to slow down.
Dads are not always considered as partners in their parenting role.
The value of father involvement is too underestimated by too many who actually have the power to influence change: legal system, medical providers, early learning, teen mom's programs... So many who can easily make an impact by just adding the message.
Supporting fathers in great details
Importance of connecting Dads to mentor each other
To really consider dad's efforts and feelings when he comes into the office.
That so many fathers keep on trying even with all the barriers in front of them.
Really great information from everyone
You have to be racism-informed in order to be trauma-informed.
To examine any structural and systemic biases impacting father engagement, particularly as NCPs. To look for father-specific resources/father-friendly resources to offer.
The passion towards fathers
Get fathers involved more in programs
Assume fathers want to be engaged
Fathers are just as important as mothers!
To help fathers feel more included
Be more inclusive
The foundational truth that will encourage fathers in the system to be highly motivated and encouraged to fully engage with their whole heart and very best they have... "The VALUE, Influence, Necessity, Contributions, and Potential to Positively Impact their child(ren) is EQUAL whether regardless of gender and must remain to be perceived accordingly by all system agencies, personnel, policy makers, service providers and stakeholders. Female & Male NUTURE are ALSO CO-EQUAL in Value & NECESSITY for Children!"
Short Videos: 
Our Playlist: 
We asked atteendees what songs they enjoyed with their families and here is what they said